ACE BURSARY
The new fund is the Foundation's first education bursary and will be used exclusively to support young, gifted players who do not have the financial resources to fully benefit from the opportunities available to them through their participation in the club's ACE (Academy, Colleges and Education) scheme.
The Foundation plans to raise £5,000 over coming months to enable it to support students during the 2022/23 academic year, additional funds will be needed in subsequent seasons.
Funds will be allocated to students in need by an adjudication panel consisting of representatives of the Foundation and the ACE programme.
To support please CLICK on donate button below.
Donate
London Irish Supporters donate

to the ACE BURSARY

On Saturday 3rd September 2022, the London Irish supporters group handed over a cheque for

£500 to the Foundation in support of the Jarrod Cunningham ACE Bursary fund at Hazelwood

whilst attending the members day.

For more information please contact info@londonirishfoundation.org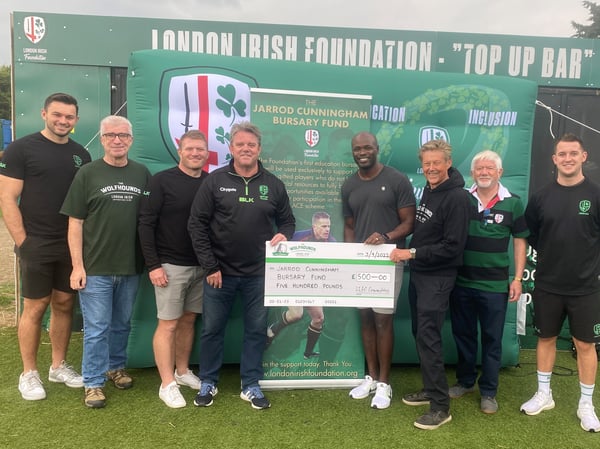 Funds donated - applications and grants
£1435
Donated as of 13.10.2022
HOW YOU CAN SUPPORT US
MAKE A DONATION
You can donate in the following ways: By making a one-off or monthly donation; by becoming a corporate supporter; by attending or participating in our fundraising events; by leaving a gift in your will. For details about making a donation please contact: foundation@london-irish.com and we will be in touch.
Donate now
VOLUNTEER FOR US
By joining our group of volunteers you can make a difference. Over the course of a year there are occasions when we need extra help with activities and events. Our volunteers meet new people, gain new friendships, learn new skills and have some really great experiences! Because of the nature of some of our projects we need you to sign up in advance to our list of volunteers. All you have to do is contact the Foundation at: foundation@london-irish.com and we will be in touch with you.
Find out more about volunteering