To Celebrate its Thirty-Year Anniversary, Aldermaston based
Pump Technology Ltd is delighted to be donating
a number of Defibrillators to local communities.
The first five units have just been handed over to the following organisations.
Hazelwood – An impressive Sports facility and the home of London Irish RFU in Sunbury-on-Thames. This location provides a vast array of sports training facilities, whilst also offering a venue for meeting and events hire.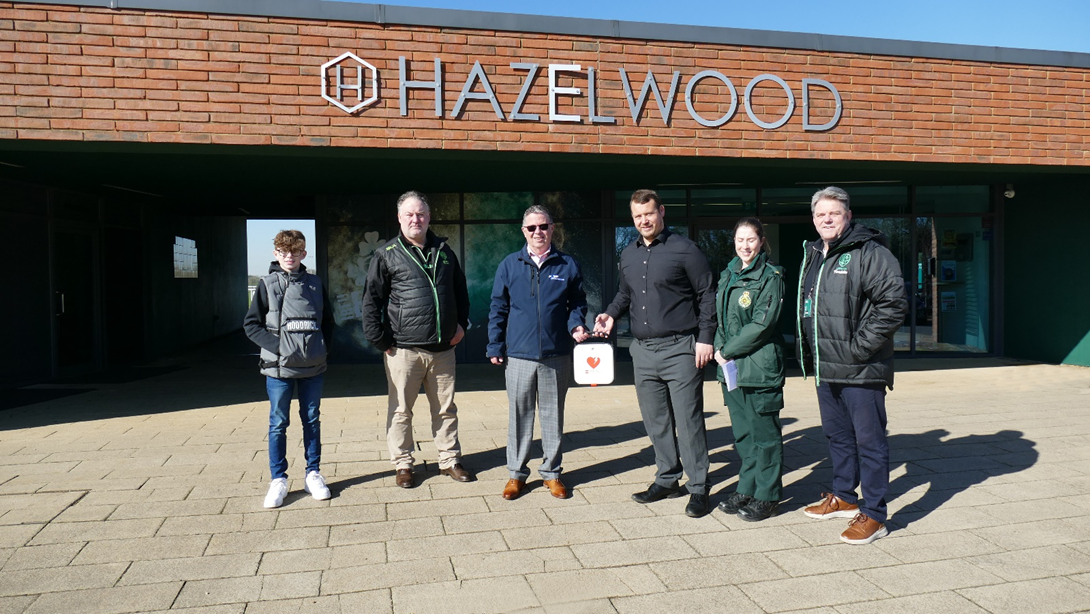 Picture Right to Left: Andy Keast (London Irish Foundation Chief Executive), Abby Doolan (London Ambulance Service NHS Trust), Luke Charlton (Hazelwood General Manager), Jonathan Barker (Pump Technology Ltd MD), Wayne Wedgbury (London Irish Foundation Head of Operations) and Aiden Barker-Rees (Grandson of Jonathan Barker).
Luke comments – Hazelwood is an extremely busy facility making it an ideal location for a defibrillator. It will be a great addition to maintaining the health and safety for the various sports, activities and events that we have on offer here.
Chiswick Park Business Centre - Chiswick Park is home to some of the world's leading Global, European and National companies. During the working day (and at weekends as well as late into the evenings) thousands of people use the centre concourse, where the new defibrillator is sited, for eating, relaxing and moving about between locations.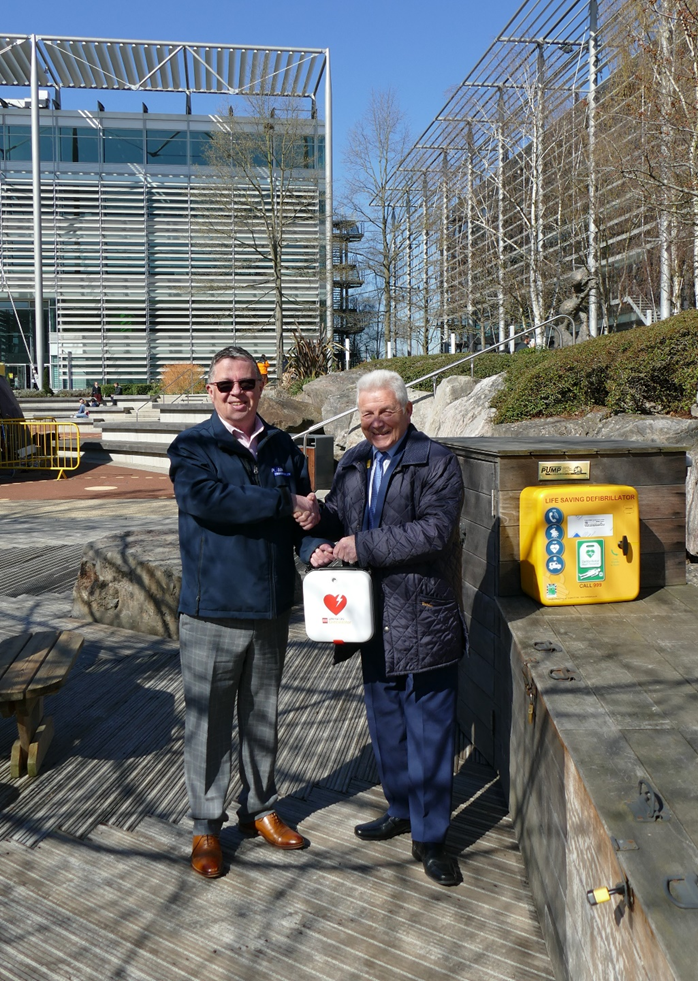 Picture Right to Left: David McDonnell (Enjoy Work Health and Safety Co-Ordinator based in Chiswick Park Business Centre) and Jonathan Barker (Pump Technology Ltd MD)
David comments – This extremely busy site is the ideal location for a defibrillator and will be a great addition to maintaining the health and safety of everyone here.
Waterman's Art Centre - Watermans Art Centre is a combined arts centre. It is located in Brentford, alongside the banks of the River Thames overlooking Kew Gardens in West London. It includes a 239-seat theatre, a 125-seat cinema, two galleries and two studio spaces.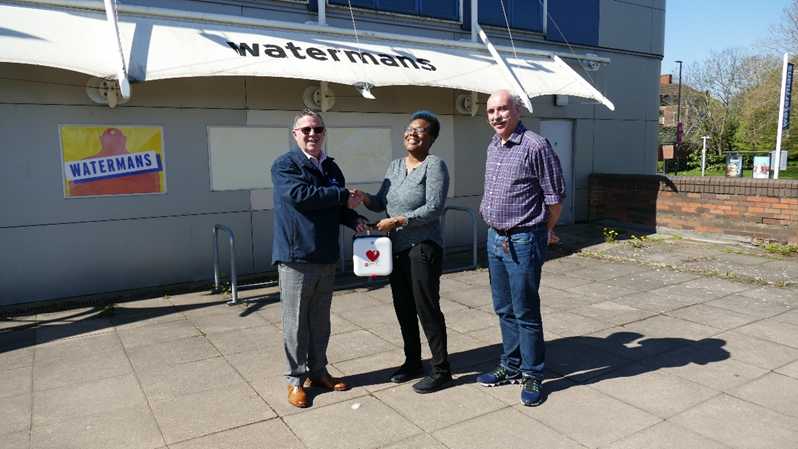 Picture Right to Left: Thom Stanbury (General Manager, Watermans) Johanna Browne (Customer Relations Manager, Watermans) and Jonathan Barker (Pump Technology Ltd MD)
Suzette comments – "We are working on a very tight budget and having Pump Technology provide this Defibrillator is a real shot in the arm for the centre".
Jan Lennox, Director of Watermans, comments - "Waterman's is thrilled to have a potentially life-saving defibrillator installed in our venue and though I hope we never have to use it, it is reassuring to know it is there and that our customer relations team will have training too."
Kew Cricket Club – Is a Historic Cricket Club. Founded in 1853 it has been at the heart of the local community for over a century and a half.
A friendly and welcoming club playing league and social cricket at adult and junior levels, with a clubhouse bar open all year round, Kew CC is undergoing a major redevelopment of its facilities to make it the best place to play cricket in west London.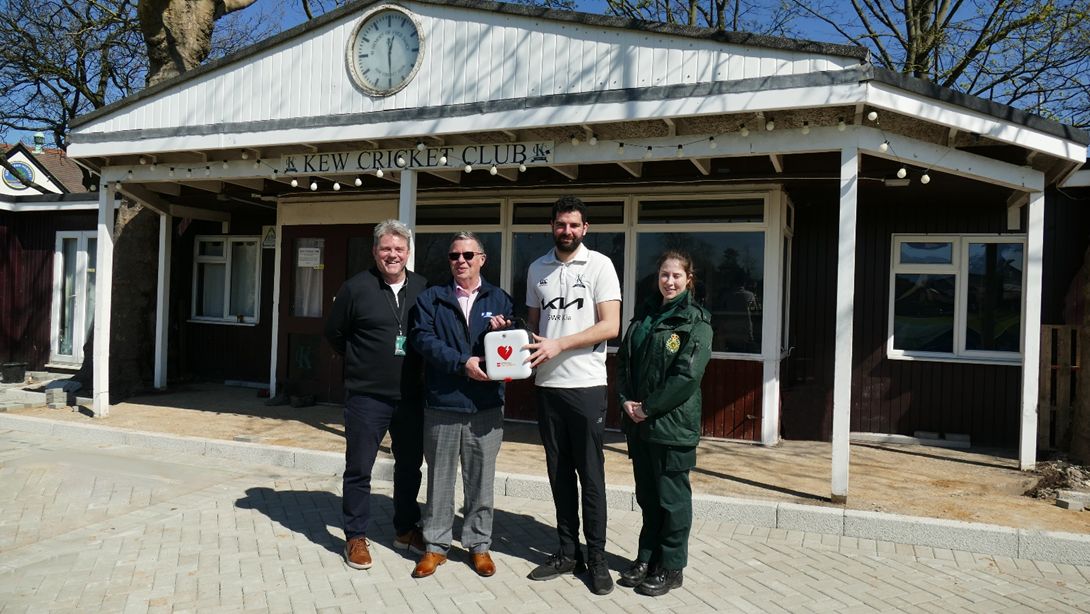 Picture Right to Left – Abby Doolan (London Ambulance Service NHS Trust), Shane McDermott (First team captain, Kew CC), Jonathan Barker (Pump Technology Ltd MD) and Andy Keast (London Irish Foundation Chief Executive).
Shane comments – "We are constantly hearing in the news about how defibrillators are saving lives in sports locations all over the country. This unit which Pump Technology have donated to us, will be visible and available to everybody around Kew Green and the surrounding area and is therefore a great addition to our community".
London Museum of Water and Steam - An independent museum founded in 1975 as the Kew Bridge Steam Museum. It was rebranded in early 2014 following a major investment project.
Based in the historic buildings of the former Kew Bridge Waterworks, it tells the story of London's water supply and the amazing pumping engines that helped to make London the great city it is today. They have the world's largest collection of stationary steam pumping engines, many of which can be seen working at weekends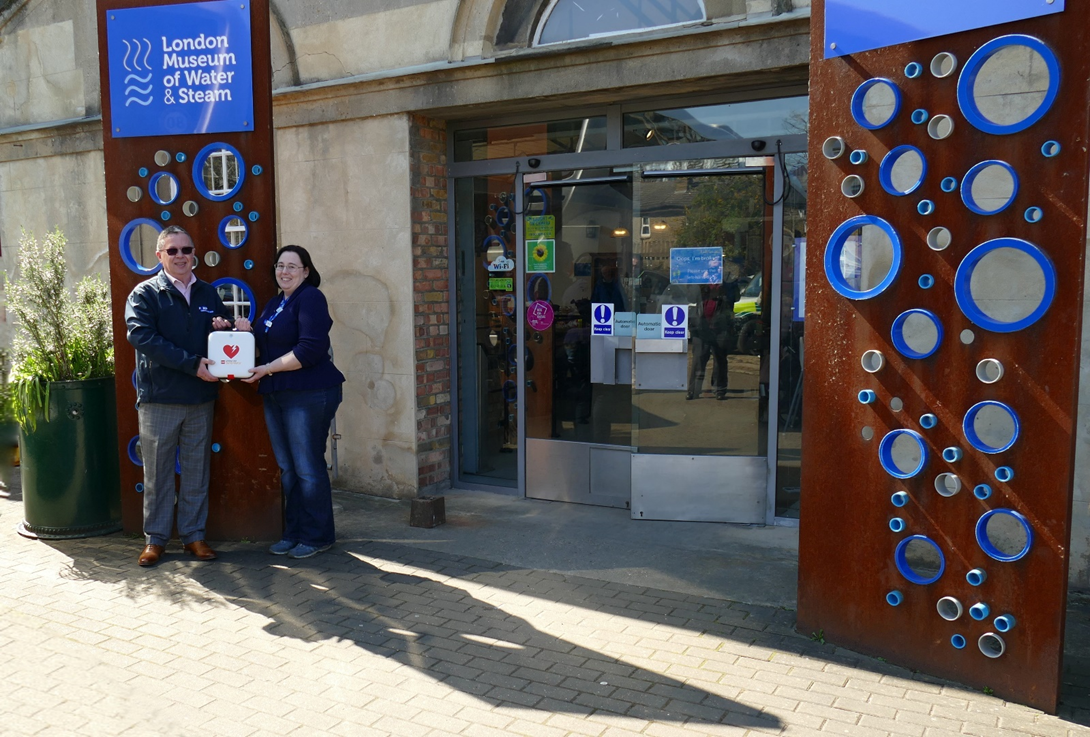 Picture Right to Left: Melissa Maynard (Interim Director London Museum of Water & Steam and Jonathan Barker (Pump Technology Ltd MD)
Melissa comments – "As a charity organisation, we are always trying to find money for everything we need to keep developing and grow. I have wanted to install a Defibrillator for many months now as I really believe that we should have one, but could not find the money in our budget. This donation form Pump Technology has enabled us to now install this life saving equipment and we are extremely grateful for the gift".
Why they are needed:
Sudden cardiac arrest is a leading cause of premature death. In cardiac arrest the heart's steady rhythm is often replaced by disorganised electrical activity called ventricular fibrillation (VF). The sooner VF is treated by an electrical shock (defibrillation) the greater the chance of the person's life being saved. Immediate action by members of the public can save lives.
Cardiac Arrest Risk:
The risk of cardiac arrest increases with age. In Europe around 1 in 1000 people suffers cardiac arrest each year. In the UK there are approximately 60,000 cardiac arrests annually. Resuscitation is attempted in only about half of these but fewer than 1 in 10 survive.
What to do in and EMERGENCY:
Calling 999 for an emergency ambulance will let the caller know the location of the nearest public access defib. Defib locations across the UK are recorded on The Circuit, www.thecircuit.uk which is the national defibrillator network, so callers can be directed to the nearest available device. The 999 call-handler will support the caller until the ambulance or first responder arrives on scene.
As part of the project, the London Ambulance Service NHS Trust will be organising and running comprehensive training events to ensure that as many people as possible understand how to work this equipment and are available to step in if an emergency should ever arise.

Supporting local communities to KEEP HEARTS PUMPING
Pump Technology Ltd, 0118 9821 555 – www.pumptechnology.co.uk Jonathan Barker (MD)
Media Contact – 02380 474243 - info@interworldmarketing.net Ian Marriott - "Inter World Marketing" for information, photographs and videos of installations, handovers and locations.
Pump Technology would also like to thank Andy Keast CEO at the London Irish Foundation, (a community support charity which Jeremy Brownlee, Pump Technology's Chairman is a Trustee) for his tireless work in liaising with the two organisations involved in this project.
SIGN UP AND KEEP UP TO DATE
We would like to keep you updated about the Foundation.
We always keep your details safe and we never pass them on to other organisations. You can change your preferences at any time by contacting us at info@londonirishfoundation.org or by calling 01932 750 100.
A copy of our Privacy Policy is available on request.
WHO WE WORK WITH