Vision Sports Publishing and Paddy Lennon (pictured below) are pleased to announce that their forthcoming book London Irish:
125 Years of Passion in Exile has been successfully printed and is now available for pre-order.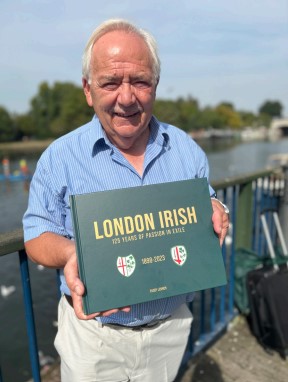 The substantial, 344 page coffee table book tells the complete history of London Irish rugby, both amateur and professional clubs, and is wonderfully illustrated with evocative and previously unseen photographsand historic memorabilia.

"I am absolutely delighted with the finished book," explained author Paddy Lennon. "For me this has been a labour of love and I am so pleased that the end result is this spectacular book which truly does justice to the rich and fascinating history of London Irish."
Only 2,000 copies of this special book have been printed, with publication due in midto-late October when the main shipment arrives in the UK.
To reserve a copy and avoid disappointment, you can pre-order now by following the link below.

London Irish: 125 Years of Passion in Exile will have an RRP of £40 when published, but orders received before publication will cost £35 (plus delivery and packing).
Corporate supporters of London Irish who may wish to order a minimum of 30 copies at a special bulk order price, can have them delivered with their company logo printed on a wrap around cover – please contact Toby Trotman (details below) if this is of interest.

The book is available exclusively from the publishers online at londonirishbook.com and a donation from sales of the book will be divided between the London Irish Foundation and the Amateur Club.
Website: londonirishbook.com
X (Twitter): @LondonIrishBook
Instagram: londonirishbook
Facebook: London Irish - 125 Years of Passion in Exile

For more information about the book please contact Toby Trotman at Vision Sport
SIGN UP AND KEEP UP TO DATE
We would like to keep you updated about the Foundation.
We always keep your details safe and we never pass them on to other organisations. You can change your preferences at any time by contacting us at info@londonirishfoundation.org or by calling 01932 750 100.
A copy of our Privacy Policy is available on request.
WHO WE WORK WITH