The London Irish Foundation are holding a Disability Festival on Saturday 3rd December before the Gallagher Premiership fixture against newcastle at the GTECH Stadium
The International Day of Disabled People – 03 December
The International Day of Disabled People (IDDP) takes place annually on 03 December. The day was created by the UN in 1992; with the aims to promote the rights & well-being of disabled people across society & raise awareness of disability in every aspect of political, social, economic & cultural life.

Purple Sock Day
To celebrate IDDP in the UK, we are asking the public, business community & all other organisations to buy & wear a pair of our Purple Socks on 03 December; show them off with pride & share outward support for our disability community via social media - Purple is the colour associated with disability.
The BAM Socks
The socks are made by the British fashion brand BAM, who are pioneers in natural and purposeful activewear. Soft, sustainable, & ethically sourced bamboo clothing run by people who care passionately about our environment.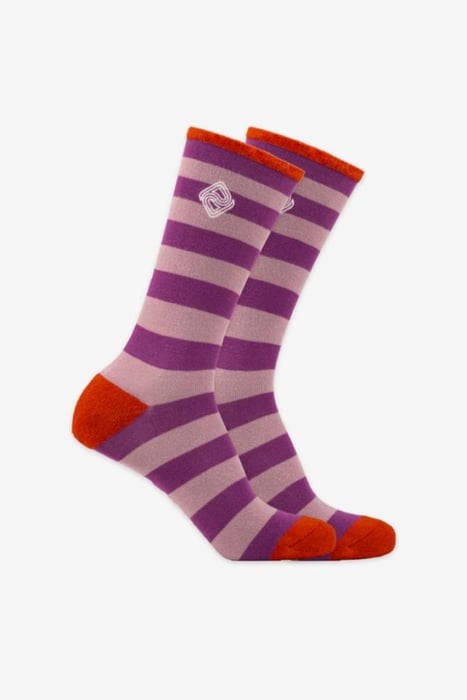 How Much is a Pair of Socks?
At just £6 per pair, we want to make our high-quality socks as affordable as possible for most people.
Who is Behind Purple Sock Day?
Parallel Lifestyle is a social enterprise who champion disability inclusion & wellbeing through an attitude of 'no limits living.' Founded by Claudia & Andrew Douglass, Parallel's social aim is to support the D/deaf, disabled & neurodivergent communities to be free to live life to the full in mainstream society.
What Happens to the Money?
Fifty percent of profits is ring-fenced for a Purple Sock Fund, which is used to provide funding & support to disabled-owned start-up businesses & budding disabled entrepreneurs. The Purple Sock Fund is overseen by Hatch Enterprise, an award-winning charity that supports under-represented founders to develop the knowledge, confidence, & skills needed to launch & grow a business. The other 50% of any profits is re-invested into growing Purple Sock Day & other Parallel social enterprise projects.
How Can You Help?
By buying, wearing & sharing will make a huge difference. Together we can celebrate The International Day of Disabled People, through a simple act of national mass participation. Purple Sock Day will also help raise positive awareness for disability inclusion & create social impact by helping to unlock the business potential of our talented D/deaf, disabled & neurodivergent entrepreneurs.
#PurpleSockDay #MyBAMKit #IDDP #IDPD
SIGN UP AND KEEP UP TO DATE
We would like to keep you updated about the Foundation.
We always keep your details safe and we never pass them on to other organisations. You can change your preferences at any time by contacting us at info@londonirishfoundation.org or by calling 01932 750 100.
A copy of our Privacy Policy is available on request.
WHO WE WORK WITH